To place an order, check pricing, or to get more information please click the product type above.


Ka-Blam Standard Comic-Sized Sampler




FREE to New Users!






This pre-printed Sampler

features our standard 80# Glossy Text stock on the cover, our standard 70# Glossy Text interior stock and demonstrates our print quality on different art styles -- line art only, black and white mechanical patterns, grayscales, pencils only, flat color, cel-shaded color, heavily rendered color, and hand-painted color -- by showcasing artwork from a several of our satisfied customers.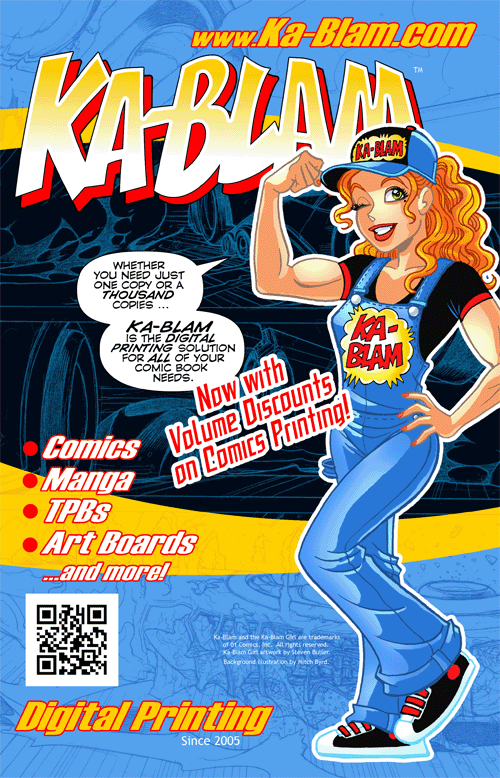 You must be registered and logged in to order any of the Ka-Blam Print Samples.

How do you do that? Easy! Just go HERE to login or register. It's FREE, simple, and painless. Then click your way back over here. We'll wait.





by adding one of these banners or buttons to your web page!

Just right click the banner or button of your choice and save it to the front page of your web site.

Please note the word front.In order to qualify for the discount our banner or button must appear on the front or main page of your website. We're happy to be on a links page or elsewhere on your site if you so choose, but ifor sake of the discount there must be one of our buttons or banners on the FRONT page of your web site.

Be sure that you link the buttons back to http://www.ka-blam.com!

Sites with high referral rates will receive occasional credits they can spend like cash at Ka-Blam ... along with other goodies, not to mention our undying gratitude!







Ka-Blam, IndyPlanet, ComicsMonkey, and 01Comics are trademarks of 01Comics, Inc. The Ka-Blam Girl and ComicsMonkey illustrations are by Steven Butler.
Background art on this page is by Mitch Byrd. All other artwork, characters, titles, and websites referenced are TM and copyright the respective owners.