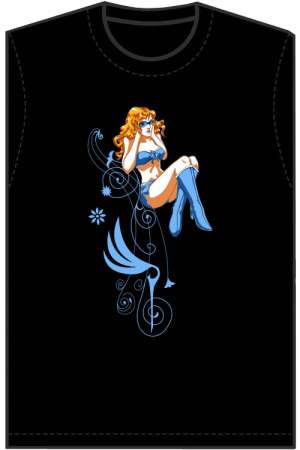 Well … it was a lot more difficult to judge than we had ever anticipated — but we finally have a winner in our Design a T-Shirt contest! We had a LOT more entrants to choose from than we'd expected and not only that, but we had more really, excellent designs than we'd expected. Our hats are off to all who entered the contest. You guys are awesome!
But there can be only one winner and that's — Heather Scott! Congratulations, Heather! Her design was chosen as the favorite of our staff and she's the recipient of the $100 in Ka-Blam print credit.
So how did we judge? Each member of the Ka-Blam staff submitted a ballot listing their 10 favorite entrants. We had expected the ballots to have at least 2 or 3 entrants in common and from those in-common choices we would choose our winner. But as it turned out Heather's was the only entrant to appear on all five ballots.
Since the ballots all reflected wildly different opinions — and failing to reach any kind of consensus on the Honorable Mentions — we then decided that each staff member would get to choose 2 designs for Honorable Mention.
Just as an aside … there were at least two other designs that would surely have made the honorable mention list — and might even have won — but we regretfully had to disqualify each because they've yet to be submitted for inclusion at IndyPlanet and that was after all one of the principal rules of the competition.
So … without further adieu and in no particular order here are the top 10 runners-up, each of whose designer will receive a free shirt –