New York Comic Con is over, we're home, and we're kind of exhausted. Not too much, though. We had a couple days to recover, though we kept drawing right through the recovery. Still, it's relaxing to be working at home and not on the road. Anyway, it's high time we kick off this recap, so let's get going! Did some sketches, they'll be posted throughout. Something was going on with the camera or something, and it was pretty dark where we were in the con center, so the photos didn't come out nearly as well. Prepare yourself for some blurry pictures. Read on for adventures…

Wolverine by Adam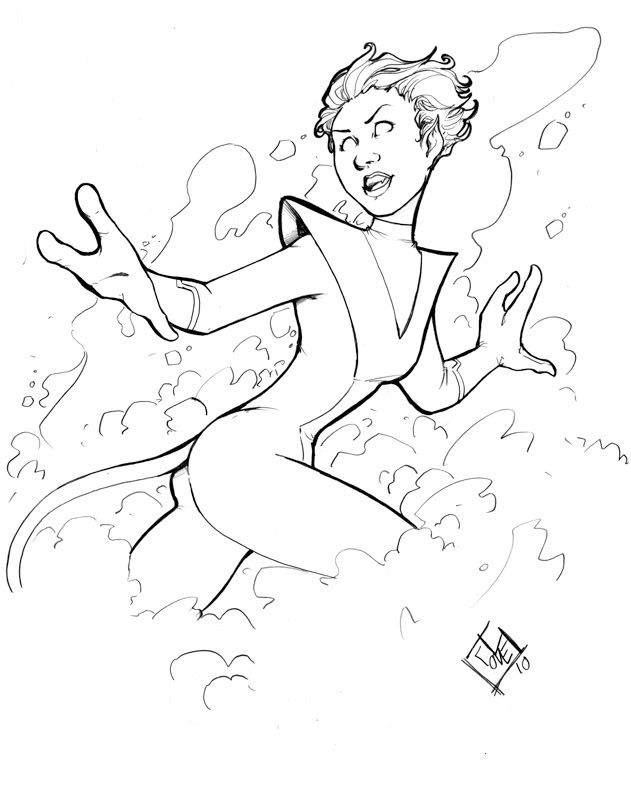 Nightcrawler… as a girl by Comfort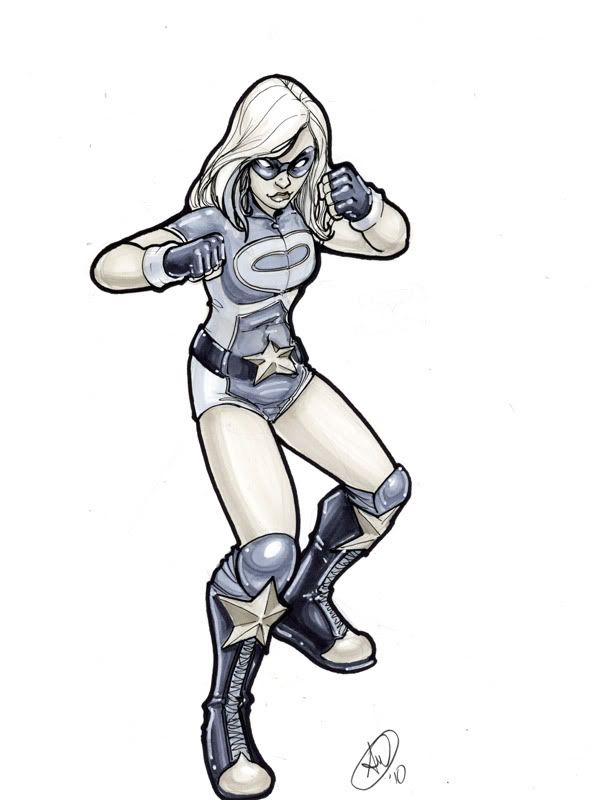 SuperStar by Adam
We got into New York a couple days early. Our friends Ian Levenstein and Kris Naudus offered to put us up for a night in their apartment and show us around town. As people who rarely get to relax and enjoy the cities we visit for conventions, it was an opportunity we couldn't resist. We crashed with them Wednesday night (after some genuine New York pizza) and Thursday took the train into Manhattan and proceeded to walk the city. Ian had to set his stuff up at the con center, so Kris showed us around town on a Comic Shop Tour of NYC. We spent something like 5-6 hours walking around, and while we didn't do any of the really touristy stuff, we did a ton of gawking at the unique architecture and some serious people-watching.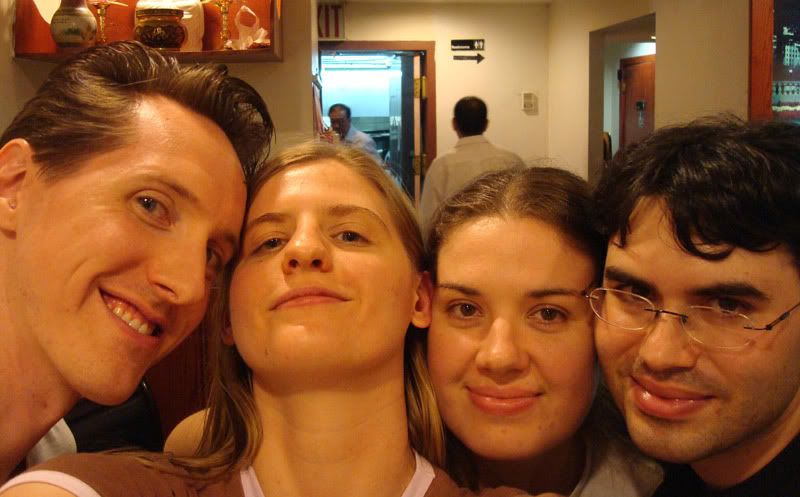 Us with Kris and Ian
Honestly, the people-watching was one of our favorite parts of being there. It's rare for us Midwesterners to be somewhere that has such a rich diversity of peoples all in one place. New York is an incredibly dense city – not very large in area, but packed tight with buildings on top of buildings and people shoulder to shoulder. It's a total horror vacui of a city, which is awesome for visually inclined people like us.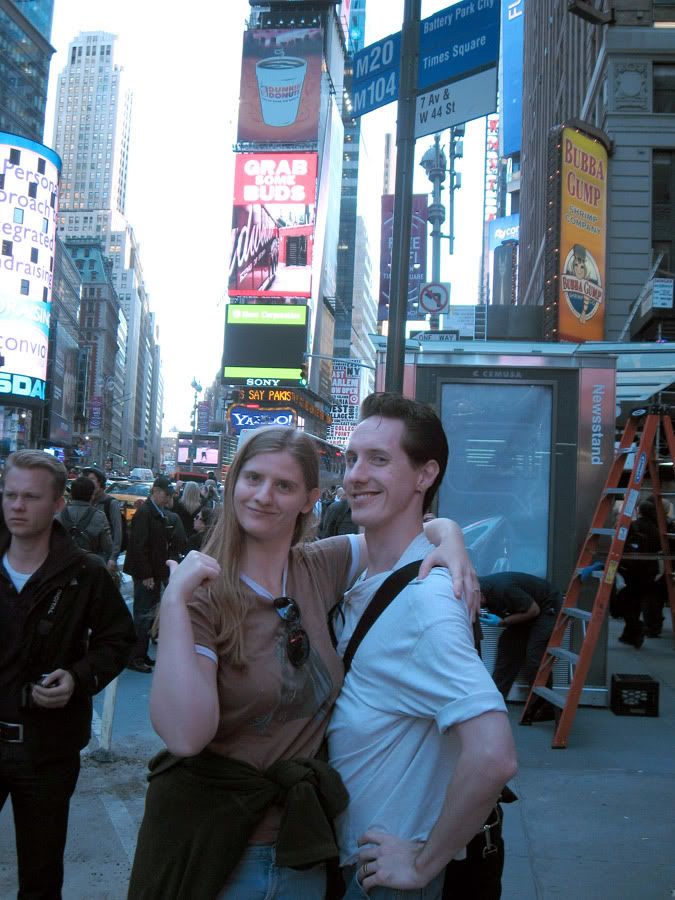 Look out New York– it's the Husband/Wife Action Faction! Dut dut duh DAAAAA!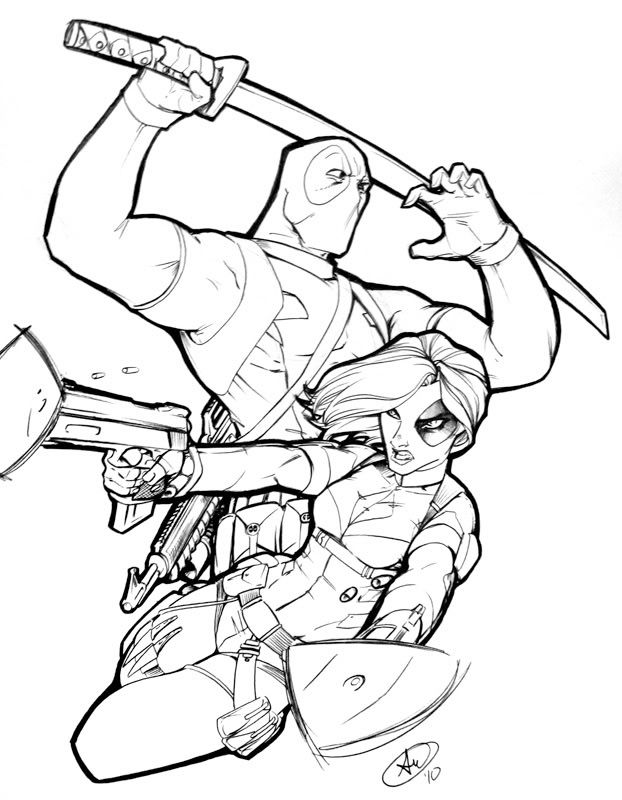 Deadpool and Domino by Adam
We went out to eat at this unbelievable Chinese restaurant. Literally, we couldn't believe it. The place was 100% vegetarian, meaning there wasn't a scrap of meat in the place. All the BBQ pork, the beef, the chicken, the duck, the octopus – it was all fake! And you'd never know! As vegetarians, we've gotten used to the fact that the world isn't built for us, really. We go to restaurants and we can eat pretty well most of the time, but we rarely have a deep set of options food-wise if we aren't preparing the meal ourselves. And then we step into a place like this and all we can think of is why can't we find food like this anywhere else? Why can't we buy fakety-pork we can take home and cook? Why can't we find fakety-beef that tastes this good? Why do these options not exist in most of the country? It was so delicious we had stars in our eyes and overly-full guts, but we regret nothing.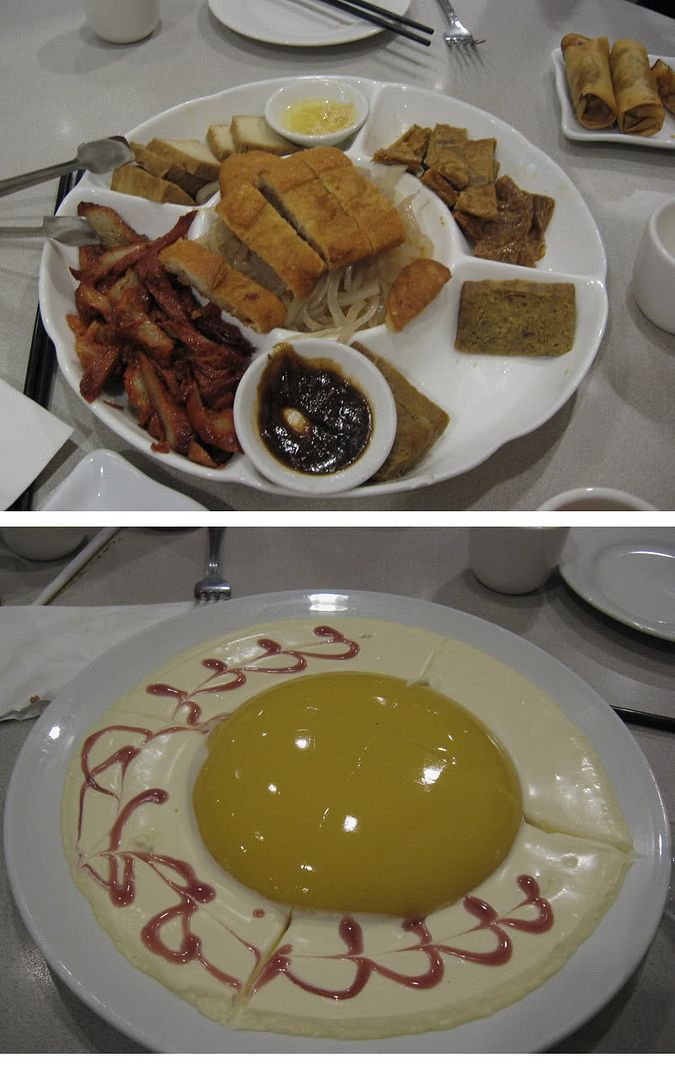 See this? See all those yummy meats? None of it is real meat. And that's a delicious mango pudding, also.
We went back to Ian and Kris' place (an awesome geek-pad if ever we've seen one) and grabbed our bags and they showed us the way through the city to our hotel. Up to the top floor we went to meet with our perennial roomies, Jeremy and Kelly Dale. Have we mentioned that these are two of our favorite people? Because they totally are. Easy to talk to and tons of fun, we're lucky to be their friends. And oh, the view from this hotel room! We were 32 stories up, and when you looked out the window… well, see for yourselves!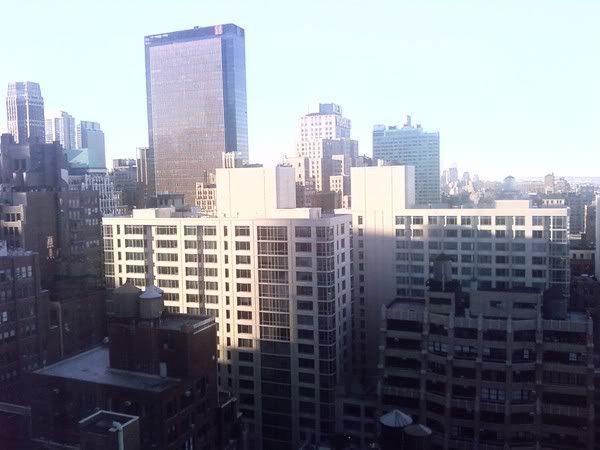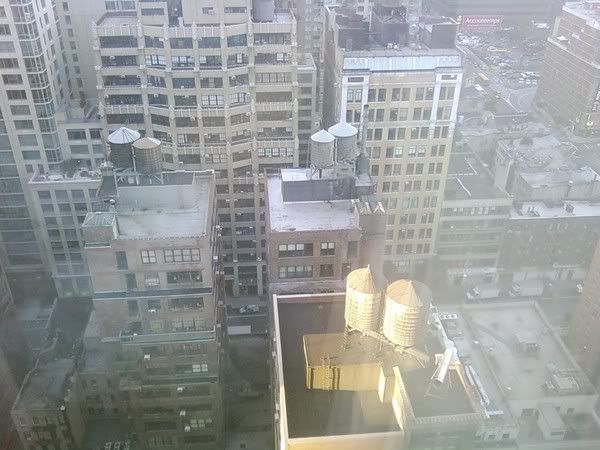 Friday we went to the show. As we were sitting with the Comic Geek Speak gang at their booth, we had the highly unusual experience of having just a couple bags to bring and virtually nothing at all to set up at the show! We didn't have to be there an hour early, we didn't have to go in the day before to put the table together, we just had to show up on the day and lay out our portfolio and tabletop comic rack. Easy-breezy, baby! It was a bit of a wait, as even the "Professionals Only" line was exceptionally long. We didn't have a lot of bags, but they were heavy enough that we chose to wait to the side for the line to finish winding down rather than stand in place with all that weight on our shoulders. It was probably twenty minutes after the show opened before we got in the doors.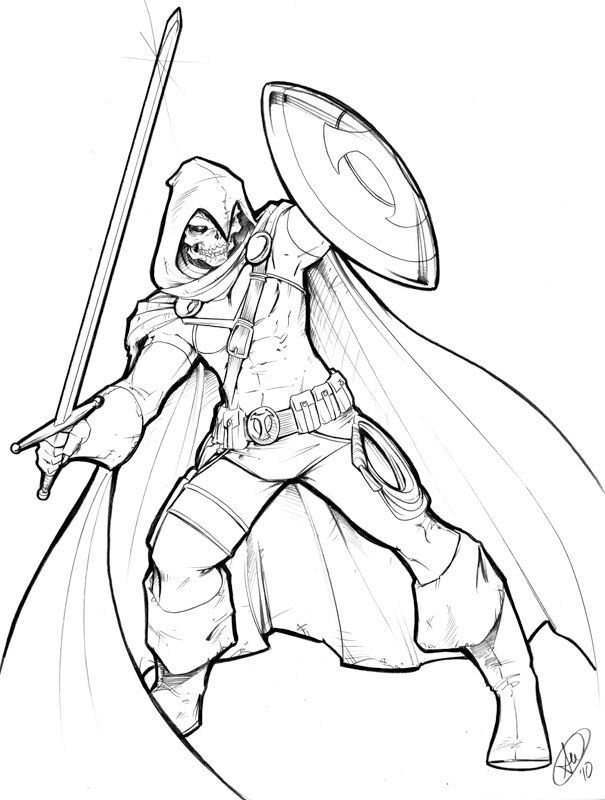 Taskmaster by Adam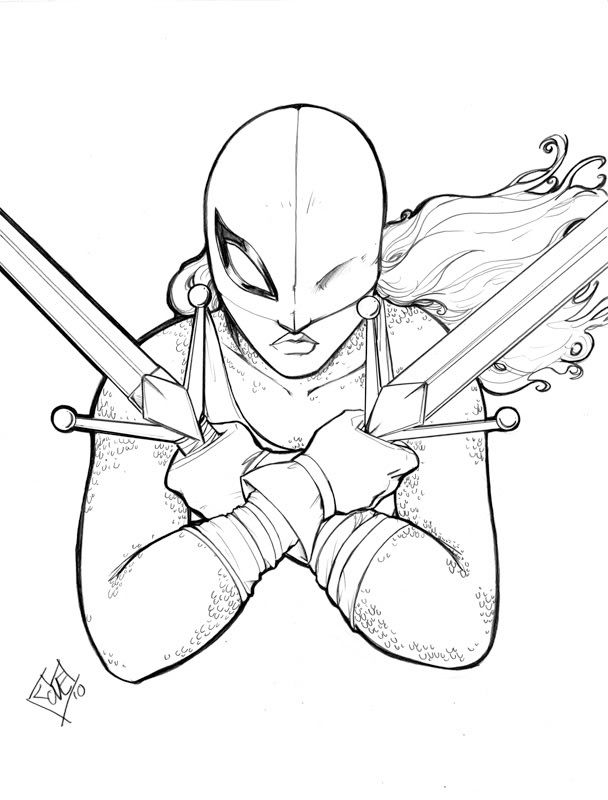 Ravager by Comfort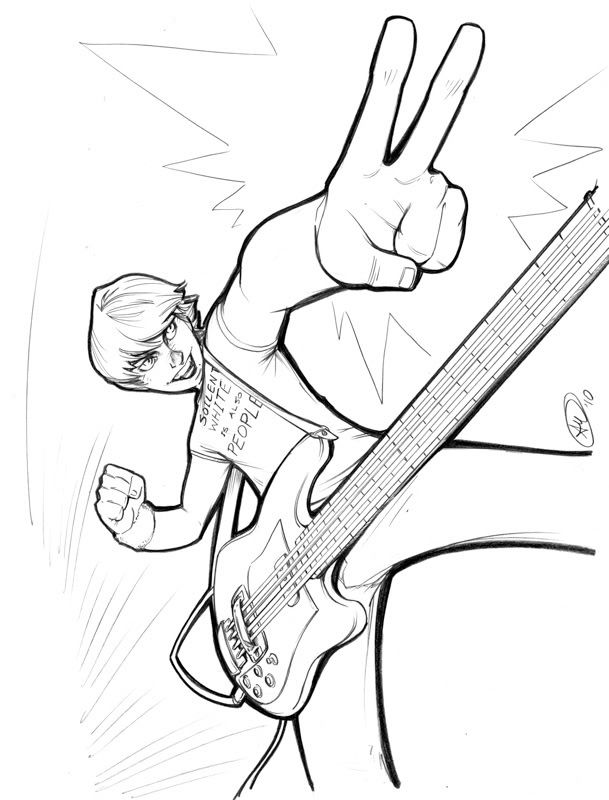 Scott Pilgrim by Adam
We got to the Geek Speak booth in Podcast Alley and found that, although the inimitable Peter Rios wasn't going to be able to make it, several of our favorites were there – Bryan "LL Cool Bryan" Deemer, Shane "Sweetest Superdad Ever" Kelly, Pants "My Real Name is Brian" Christman, Adam "Pre-Crisis Adam Withers" Murdough, and Jamie D – the Shiznit Pimp himself (who would only be around on Sunday). If you've never listened to the Geeks, they're a really fun group of guys. We knew we were in for a good time at the booth, even if the show turned out to be a bust.
After we'd settled in, Deemer brought us to the Comic Cubes table in the exhibitor's area to show us something kind of f*ing awesome. See, the Comic Cubes gang produce a line of designer comic storage units. They're wooden shelving with pull-out drawers that are both stylish and attractive. No longer will you have to hide your comic collection in unseemly cardboard boxes in your basement or attic. With Comic Cubes you can display them right out in your livingroom and they look great. But we were told the week before that they were offering a new service and that we might be able to help out.
They had gotten a machine that allows them to laser-etch images onto the face of the wooden drawer units. Somebody buying a set of cubes can send them a picture and get it etched onto the wood. But they didn't want to risk making a display model with a copyrighted character, and so they reached out to Bryan to see if he knew some indy creators who might let them use an image for their display model. Bryan turned to us, and so we immediately cranked out a couple splashy black-and-white drawings to send off.
When we got to the show, this is what we were treated to. It seriously blew our minds how awesome they were…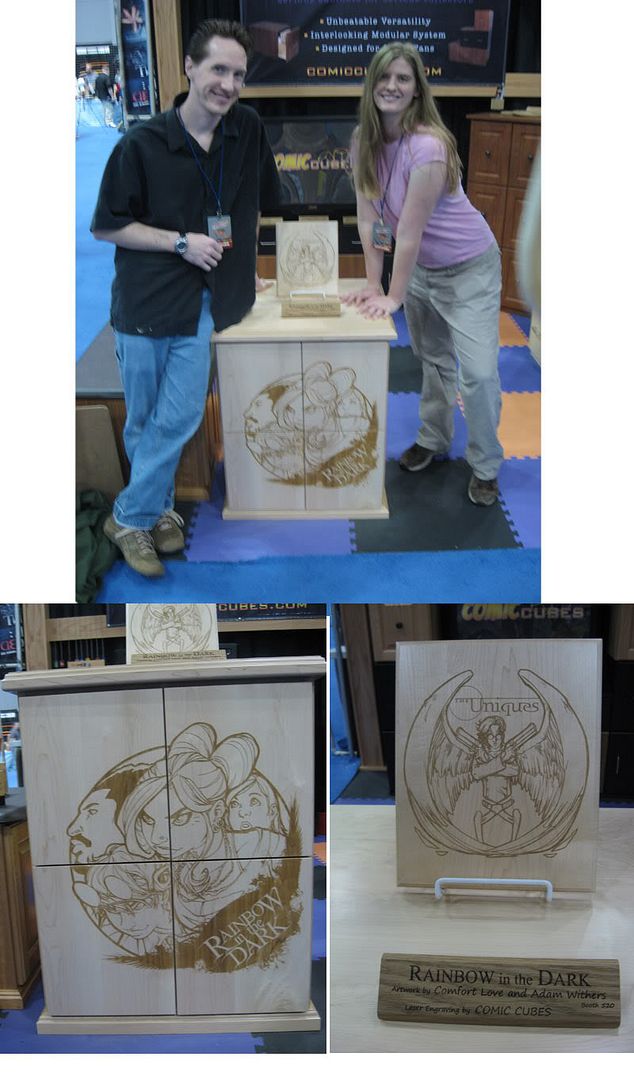 How cool is that? We were blown away. NYCC was just filled with cool moments like this to punctuate the show itself.
Friday night we and the Dales met up with Bryan and Judy Glass and Mark Lewis, colorist extraordinaire (and Uniques Tales contributors, all). Went to an Italian place that had delicious food at eyebrow-raising prices and infantile proportions. After that, the two of us had to troll New York for something desserty to fill in the gaps our expensive dinner didn't bother trying to fill. After that, we wandered a bit and decided to check in on a get-together with Jimmy Aquino (of Comic News Insider fame) at a bar not far away. By the time we got there, most of the people we'd have known were gone, but we did get to say hey to Love and Capes' Thom Zahler and Amber the Superhero Stylist. Jimmy showed not long after us, and though we had intended to head back to the hotel for drawing, we found out that Blue Meany and Izzy from Comic Racks were at another bar nearby. Being that they're from the UK, when would we get to see them in person again soon? So we kind of had to go. When we got there we met a couple other travelers from afar – an Aussie and an Irish transplant to Arizona. Why Arizona, Flint? You like big empty spaces and hot weather? Pssh.
It was actually a fantastic night. We stayed out far, far too late considering we had drawing to do before we could sleep, but we laughed a lot and had a blast with people we really like and new people we'd never met but who turned out to be awesome. It was one of those great convention moments that make all the difference between a blah show and a memorable one.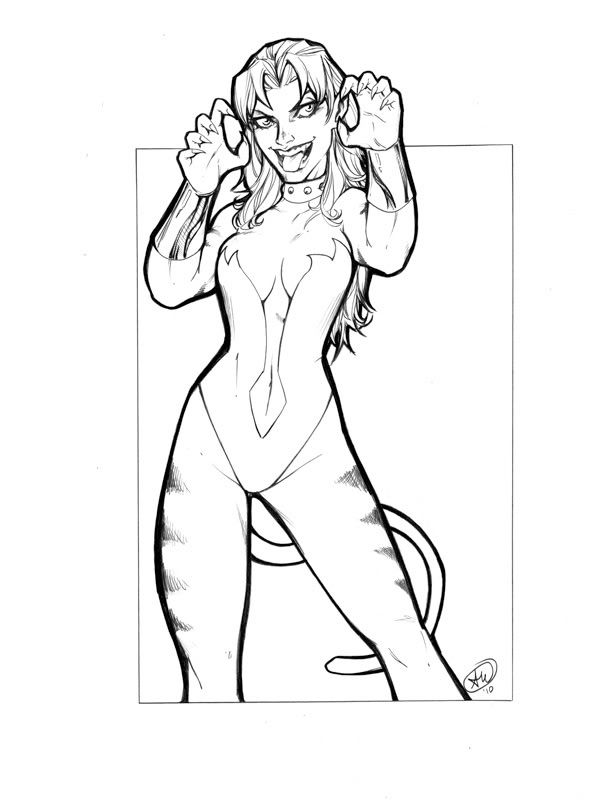 NightCat by Adam

Nightcrawler Christmas by Comfort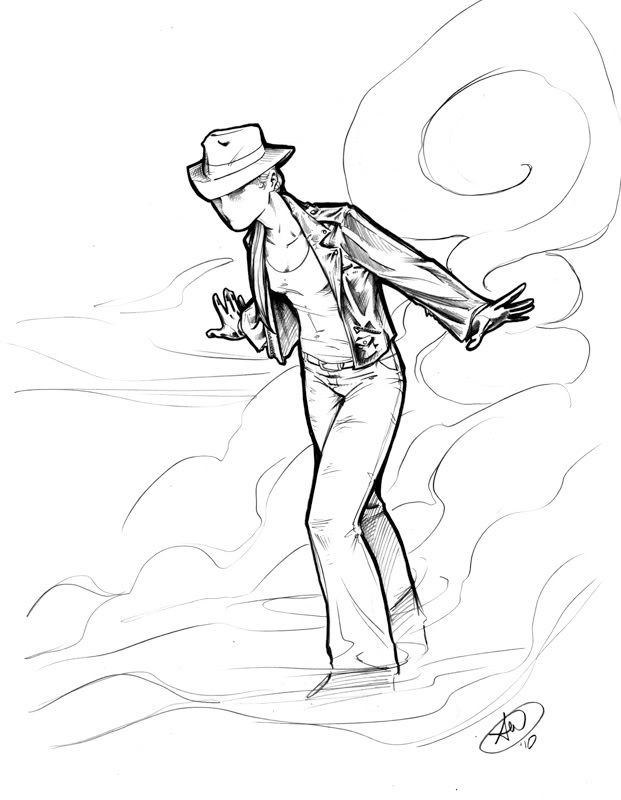 The Question by Adam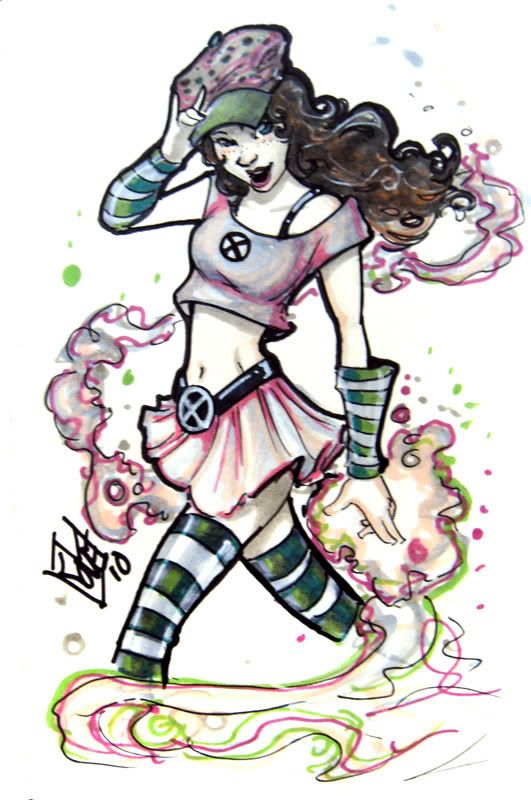 Strawberry Shortcake as an X-Man by Comfort
Saturday was redonculous. We're going to give general convention impressions in a bit, but it warrants calling out right now that the convention center was packed to the gills. It was a sold-out show, and there were so many bodies on the floor that you couldn't get anywhere. Adam had to go to the Copic booth at one point to pick up marker refills and it took him 40 minutes to get across the show-floor and back. It felt like being at San Diego again!



This awesome guy colored some sketches we'd done for him and made a shirt out of them! It was cool.
The show runners had hooked up with the people who run the New York Anime Festival and the two decided to merge their shows into one mega-show, and we aren't sure if it really benefitted from the combination. They didn't do a very good job of threading the two shows together (just stuck the Anime group in the basement on their own), so the two fandoms didn't really ever interact and it only encouraged the silly "they're different from us!" mentality that's far too prevalent in both camps. We had been looking forward to seeing the groups mingling and discovering how much they had in common, but it wasn't to be. A friend of ours in Artist Alley even said she had people coming up to her to specifically complain about the "Anime People" being there, just because her style leans in the same kind of animated direction ours does. It wasn't right and it was more than a little troubling.
Saturday night we went out to eat with Comic News Insider's Joe Gonzalez and some fans from the show. It was a pretty nice dinner and we had a good time talking with everybody. Joe introduced us to a comic called Tribes that was so cool looking we tracked it down and bought it the next day. We called it a night early because we were just exhausted as all get-out. Well… we kind of intended to, but instead we wound up back on the streets of New York, wandering through Times Square after midnight. It's just such a cool city. For two people who love their walks as much as us, it's a great place to be. So much to see and so many places to go; you can pretty much wander in any direction and find something cool to be part of.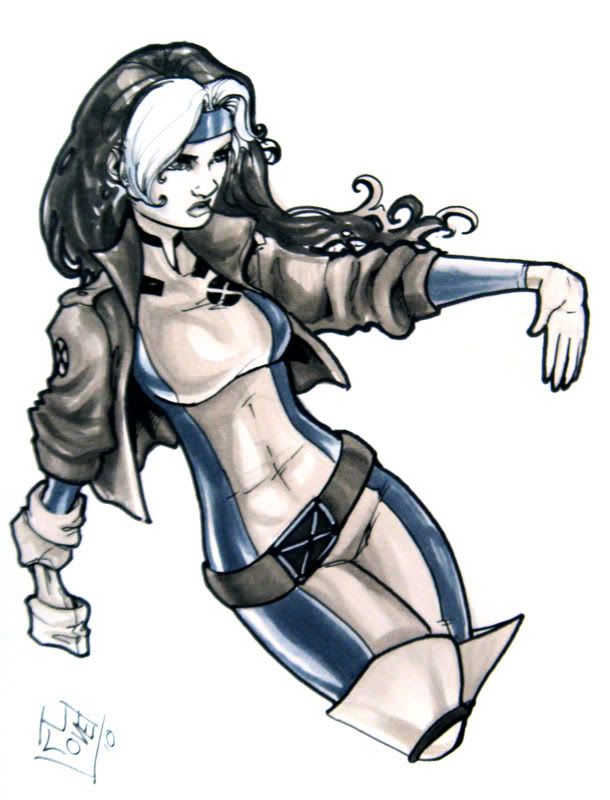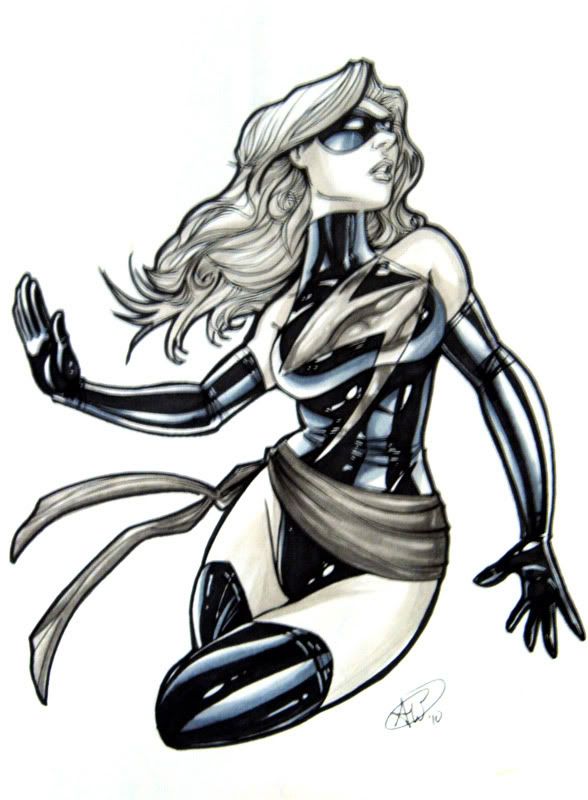 Rogue by Comfort and Ms. Marvel by Adam (Done on facing pages in a sketchbook,
so that Rogue was reaching out to touch Ms. Marvel with her bare hand)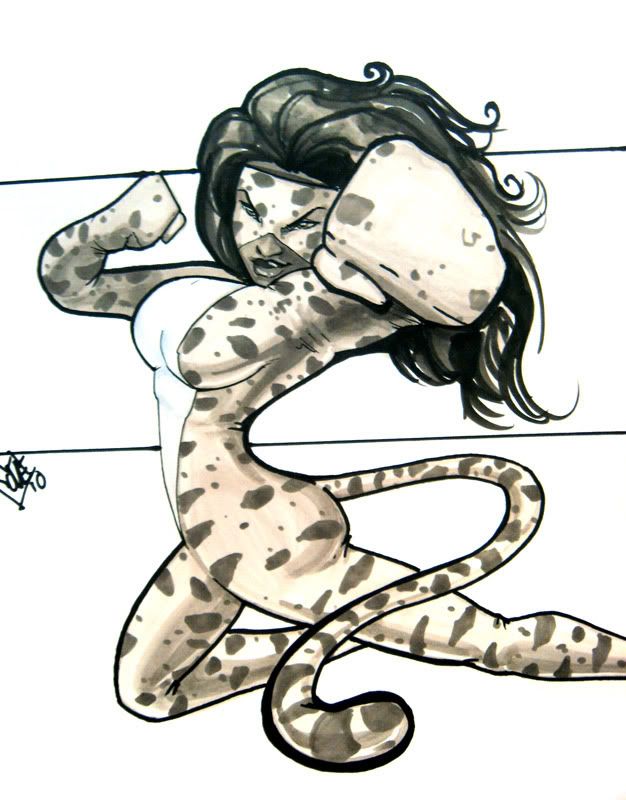 Original Character by Comfort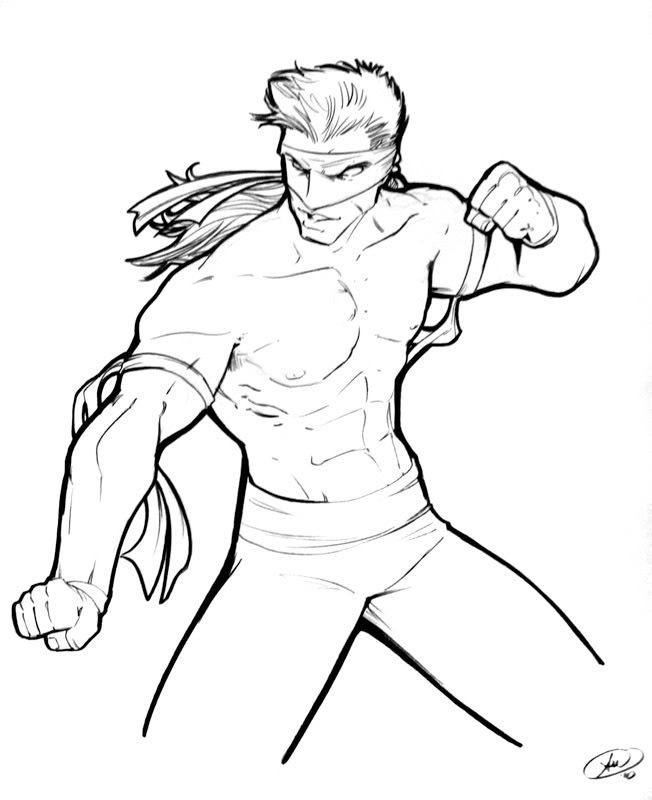 Original Character by Adam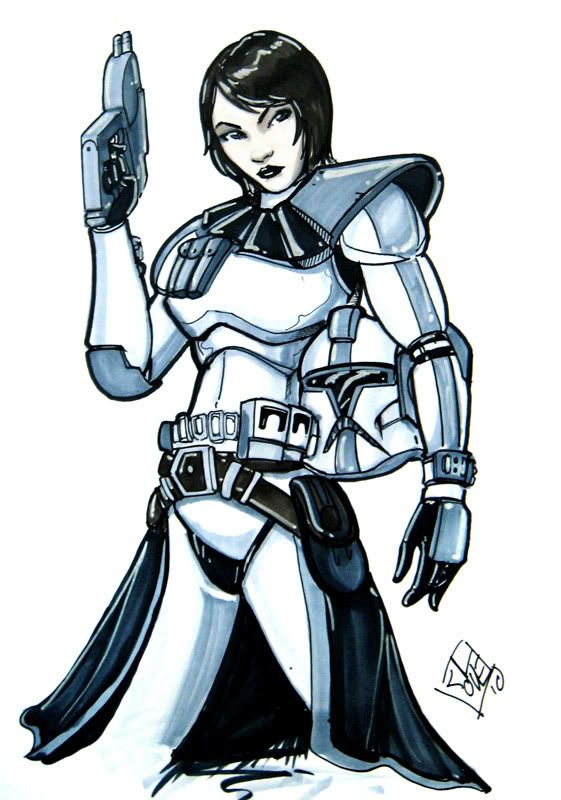 Commander Sheppard in ARC Trooper gear by Comfort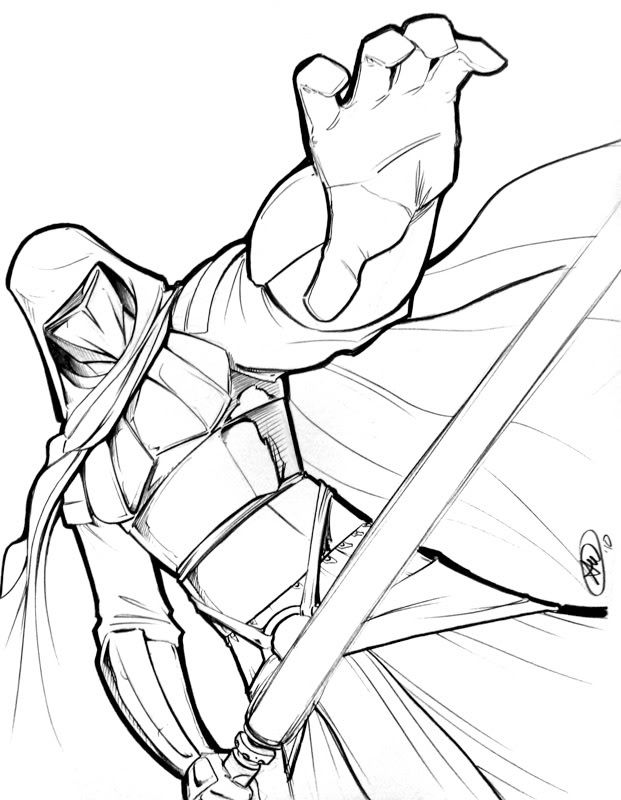 Darth Revan by Adam

Sunday the show was much more quiet, which we were kind of okay with. The Geek Speak guys had been recording the whole time, and Adam sat in on their final recap while Comfort walked around and did some business with people. Part of that business was kind of a big deal for us – we hooked up with Midtown Comics, one of the most major comic stores in Manhattan, who wanted to sell Rainbow in the Dark and Uniques at their store. They bought all the stock we had left off us and by this time it may be gracing their racks alongside other comics of note. Is that a big deal? We tend to think so. It'll be the first time our books have ever been available in a real brick-and-mortar store. Pretty cool, we think.
We hit another nice restaurant with the Dales and Glasses and Adam got this amazing sweet-potato ravioli that blew his mind. Take that, Comfort – it was a good idea to experiment after all! HA! We spent a long time in that restaurant just hanging out together. Part of the reason was that this is Jeremy and Kelly's last show of the year, so it's going to be many months before we're all together again. We've gotten to be a pretty close group over the years, and we probably speak for us all when we say part of what we look forward to in these shows is getting to be with our good friends. After a point, you aren't just "Con Friends" anymore, even if thousands of miles divide you most of the year.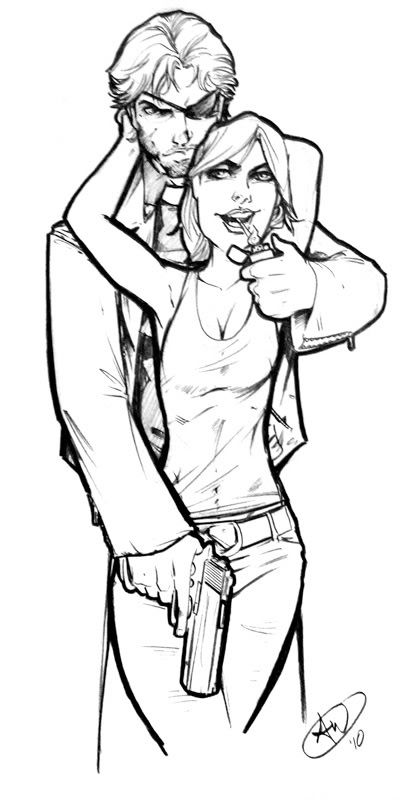 Jesse and Tulip by Adam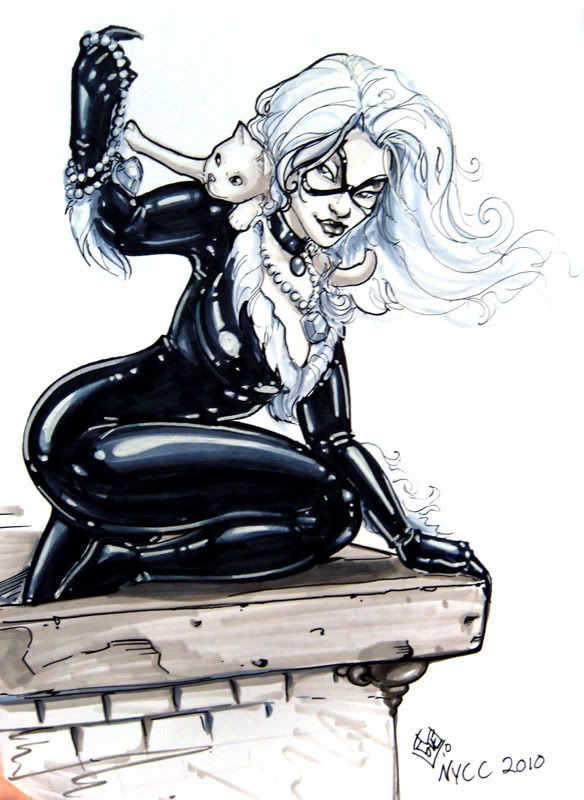 Black Cat by Comfort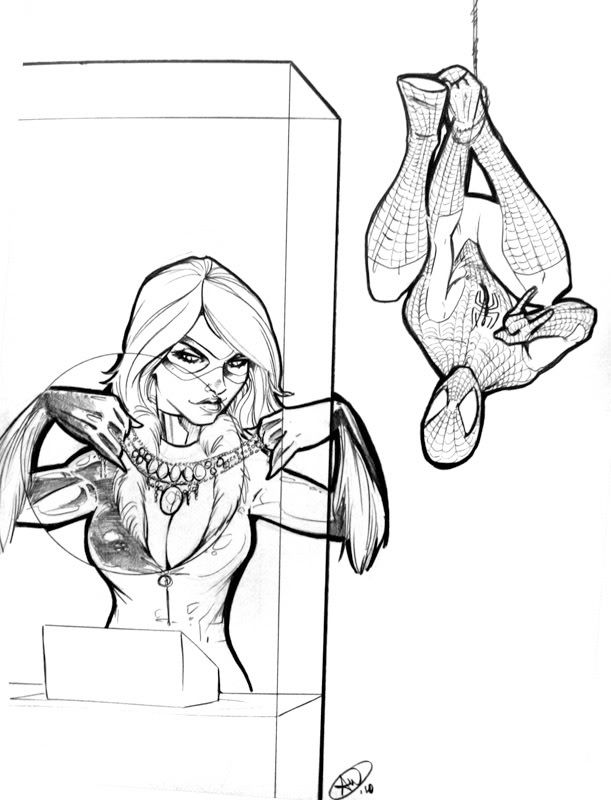 Black Cat and Spider-Man by Adam
So that was pretty much the show. But what about the show itself? Well, it was certainly big. It rivaled San Diego for pure spectacle and mass. But what was the quality of the show? Speaking for ourselves, we're kind of becoming disillusioned with these mega-crazy-massive conventions. There is a point where attendance gets so high that it actually detracts from your ability to see or do anything. Just getting in was a hassle, being led from one line to another, attendees being made to wait for a half hour before they can cross a room through a door only to be put into yet another line. There were people pressing through and going over and under the ropes en masse and security not really doing anything about it.
Then you get inside and you're constantly being pushed around by the press of bodies all around you. If you stop to look at something, you're getting hit by people trying to get by you. It's like fighting the tide in a fast-flowing river while trying to get to shore. Everything had a line, many lines being oppressively long. At what point is a crowd just a pain in the neck and not fun anymore? At what point do the numbers become detrimental?
Artist Alley wasn't organized very well. Visually it was fine, but we were told the numbering made it hard for people to find those they were looking for. And we can't not mention that there was construction everywhere in the center, which created a massive blockage right through the center of the place and made accessing either side possible only by a small passageway that wasn't easy to find. You could get through via the food court type area, but according to reports, a lot of people didn't realize that.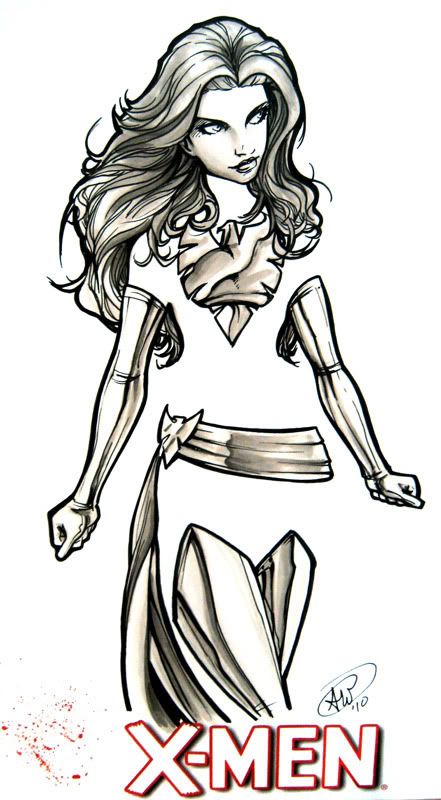 Phoenix Sketch Cover by Adam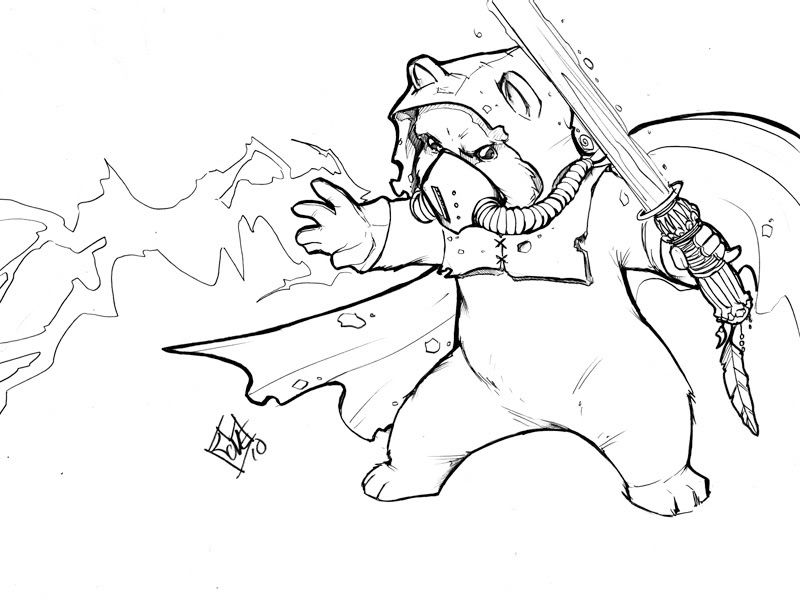 Ewok Sith Lord by Comfort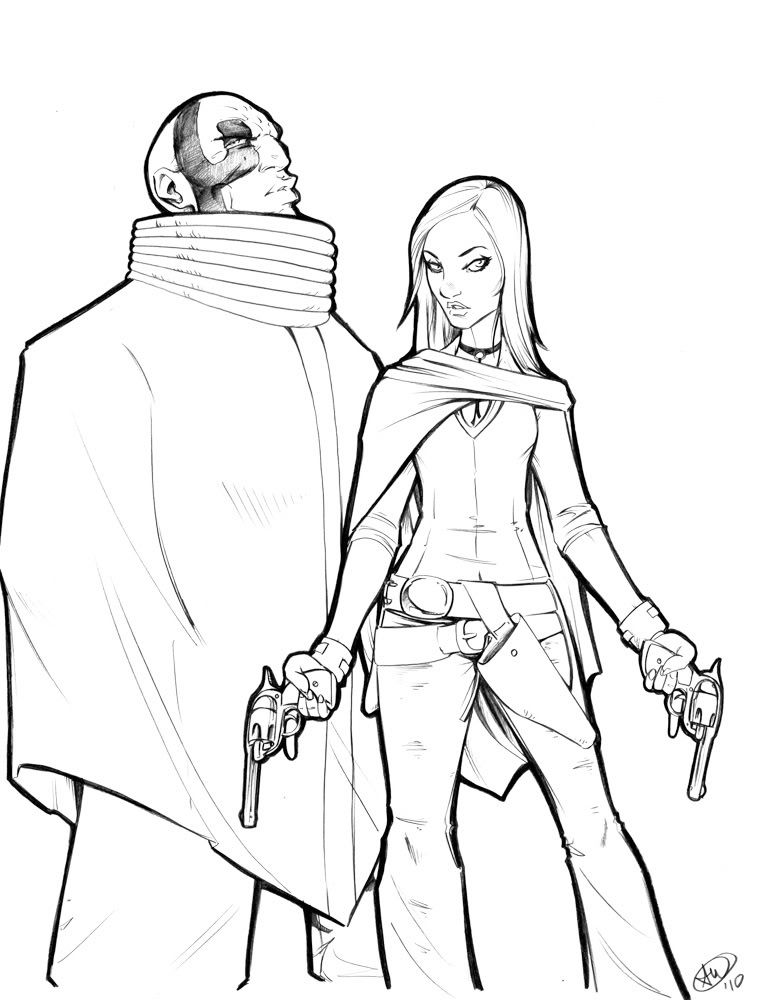 The Collector and Ebony Kiss by Adam
In all, we've been surprised by some of the negative reactions to the shows on some forums we watch. It's exciting to be at a show that's so big, but it can be really hard when you feel like you're spending days and days in a line that never ends, whether it's to get into the building or to get through the aisles or to get into the events and panels. A person can only shuffle forward an inch at a time for so long, you know? That doesn't mean there was no fun to be had – there was a lot of really cool stuff going on. It's just that the coolness of the show was counter-balanced by having to deal with the crowd all the time.
For ourselves, we did… okay. Business was pretty good, but it wasn't great. It was about San Diego levels, but as with SDCC our expenses were really high. There wasn't a single meal less than $45-50, the hotel was stupid-expensive, and we had to get a lot of stock printed. It needed to be a humongous bread-winner for us to make a decent profit, but it was just okay. Part of it might have been our location, part of it might have been that New York is itself a major vacation destination so people were maybe saving money to spend elsewhere in the city, part might have been that it cost people a lot to get there and they didn't have a lot left, part of it might have been not wanting to carry too much stuff around on subways or airplanes home after the show.
We did, however, sell tons of comics. That was awesome. They're our favorite things to sell, and seeing so many eager buyers was great. Our marker sketches were a hit, which was also nice. We've had fun experimenting with these things and it's good to know people are enjoying the end results.
So once more we've left a major convention with massive attendance, heading home with feelings that it had been personally rewarding but only a moderate financial success. Maybe when the construction is completed there will be a different convention experience. Maybe we'll be there to see. Hard to say right now.
So now it's back to work. We've got two more Uniques Tales stories in this opening series to see through – one of which we're writing and drawing ourselves! Adam and Comfort return to the Uniquesverse later this year, and we're ecstatic about it. There's also Rainbow in the Dark #3 to get working on. We've got a lot on our plate and two more conventions before our year is over. So keep tuned here and we'll be feeding you updates as they come.
Later, taters-
Adam & Comfort