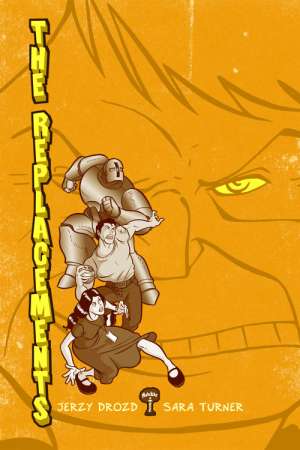 Written and Illustrated by Sara Turner and Jerzy Drozd
Manga Sized Trade Paperback
Black & White
Page Count: 190
POD
This "Pocket Edition" collects the entire series in one volume.
When museum employee Helen is instructed to accession a mysterious collection of strange objects she gets more than a mildly interesting day on the job–she gets a gallery full of crazy monsters bent on destruction! Her only hope to return to a quiet life a cataloging lies in Dhuc, a malfunctioning cowboy robot, and Bruce, a displaced '50s greaser.
The Replacements TM and © Sara Turner and Jerzy Drozd. All Rights Reserved.
Barry says, "Working on their own, both Sara Turner and Jerzy Drozd make terrific comics. So it stands to reason that when they collaborate the results would be just as outstanding. And The Replacements proves that theory correct."