Welcome back again, everybody, for our final Con Report Catch-up blog! At last, we arrive at Otakon. For those of you who are pure comic fans with little knowledge of the Anime/Manga convention scene, let us begin by telling you something we learned that weekend: Otakon is the third highest attended convention of any kind in the country. San Diego Comic Con is #1, but while walking into the convention on Friday morning and seeing the line for entrance that wrapped around the building – twice – we couldn't tell the difference in size between SDCC and this show. But we're getting ahead of ourselves; let's start at the beginning…

Colossus by Adam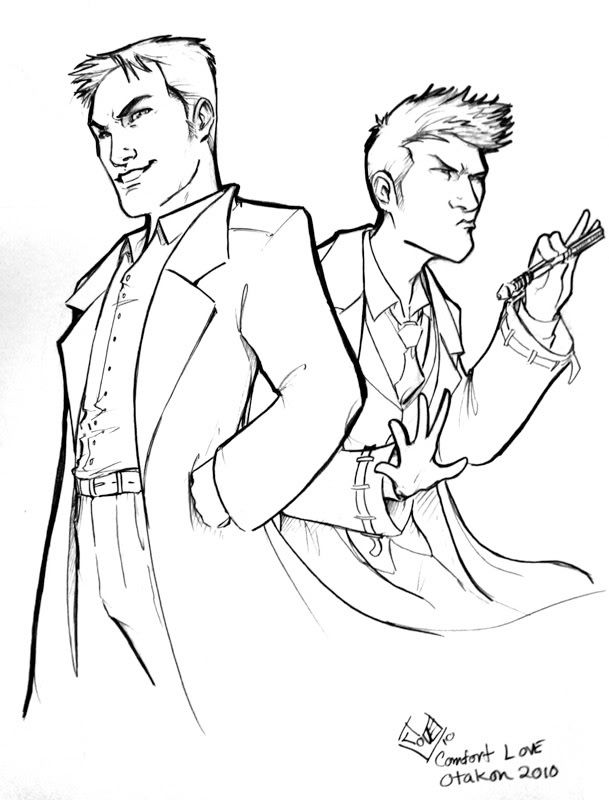 The Doctor and Captain Jack Harkness by Comfort


Pickles the Drummer from Metalocalypse, by Adam
From the time we got to Baltimore, Otakon was immediately a vastly easier experience than San Diego. Parking was a breeze, even in crowded downtown Baltimore, and when we went to check in for pre-registration and get our badges, we were in and out in no time at all. This was a huge step up in efficiency from last year, though we must confess that some of that was because this was our second year at the show and we knew what we were doing this time. We ran into the Pint-Size Dynamo Del Borovic of the hugely awesome web comic, Delve into Fantasy, and artist on our own Uniques Tales. Spent time with her in line for Artist Alley badge upgrades before heading out to spend an afternoon in Baltimore.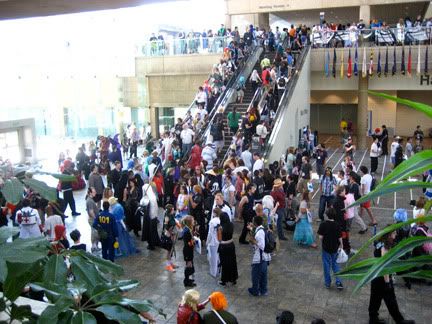 The crowd waiting to come inside, via Lora's camera.
We met up with Ian Levenstein of the fabulous Comic Timing podcast and his oh-so-lovely ladyfriend Kris, who were kind enough to share their hotel room with us (and three other cool people) for the weekend. The four of us went out, hit a Best Buy to grab "Batman: Under the Red Hood," and grabbed food at the Cheesecake Factory. Walking around downtown Baltimore was nice, but it was so muggy that it was rather uncomfortable, so we wound up spending most of our night in the hotel room. We watched the huge Thor trailer (which looks awesome) and the Batman/Red Hood movie (which was a lot better than we expected), drew some thumbnails for Rainbow #2, and generally had an awesome time.
Friday morning we went in early to see if we could get our table moved. On the way in, we stopped to shoot this video of the lines wrapping around the building:

We'd convinced Lora Innes to come to the show because of how many Dreamer fans we met last year, and we'd all wanted to be next to each other, but our table assignments were miles away. The Artist Alley coordinator was kind enough to let us move our spots, and we got ourselves all set in no time at all. To our delight, we were also next to Jerry "The Franchize" Gaylord (another awesome Uniques Tales artist) and Penelope "Peng-Peng" Rivera. The show hadn't even started and we already knew it was going to be a good time!
Once those doors opened, though… Wow. We were completely unprepared. Within moments, our table was hit by people who knew us, wanted to know us, or already loved us. Within 30 minutes, we both had commissions, we'd sold a Uniques Omnibus and a few prints, and our eyes were wide. Within a few hours, we knew this was going to be the show we needed it to be.


Thanos and Death by Adam


Telepath headshot by Comfort; Raina headshot by Adam

Nightwing and Starfire by Comfort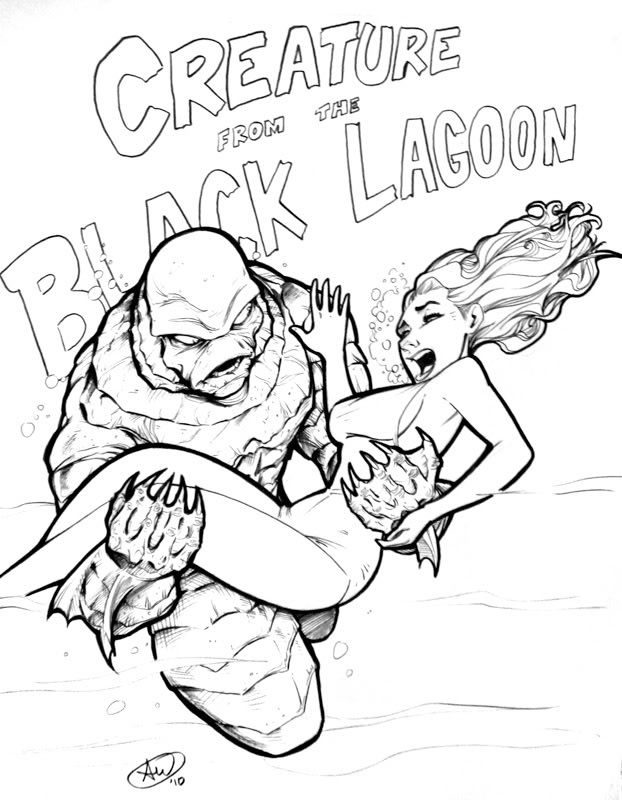 Creature from the Black Lagoon by Adam
As faithful readers may or may not recall, Otakon is a long, long show. Artist Alley is open until midnight, and the con keeps going nearly 24 hours. And just like last year, we were doing business all the way to midnight. By the end of the day Friday, we'd made nearly as much money as we had in all five days at San Diego. Happy? Oh, yes.
This year, we finally got a chance to lead a panel of our own, devoted entirely to self-publication. We've been doing this a little while and have picked up a lot in that time. If we can keep other people from having to pick around in the dark for answers, we're happy to do it. Share the knowledge, share the love – that's our motto. So Friday at 3, we sat down for our first ever solo-panel. Here's some video Comfie shot while we were setting up:

By the time the panel started, it was standing room only. They had to usher people out to prevent a fire hazard! It was amazing. We wound up cramming a ton of information into 60 minutes of talking time, inviting everybody back to our booth to continue the discussion with their questions. We were surprised how many people took us up on it, and for the rest of the weekend we were getting people who had listened to our panel coming to us with their questions about getting into comics on their own.

Talking with people after the panel, explaining things and answering questions as we're being
hurried out the door by panel ops.

Our friend Marvin commissioned us to draw a pic of Kenji and Raina doing a panel about
creating comics, showing a slide of a comic page about a husband-and-wife duo who
make comics for a living. This… may have been the most fun commission at the show.
It was a great experience, and we hope to do the panel at a lot more conventions. We'll let everybody know which ones take us up on it, and hopefully some time we'll be able to get some video of it up somewhere. Friday night we went back to the hotel after midnight and hung out in the room with the rest of the gang, working on commissions we had backlogged and trying to get ahead for the next day. In the morning, we were glad we'd done so.

Sokka and Arisia sketch cards by Adam


X-Men Evolution: Nightcrawler by Comfort


A fan as Street Fighter's Balrog by Adam
Saturday was the longest day of the show, running from 10 am to midnight – that's 14 non-stop hours spent working the Alley! And it was quickly shaping up to be even busier than Friday had been. In fact, we were cruising toward a serious barn-burner of a con day when, all of a sudden, the fire alarm went off. That's right – the fire alarm went off in the middle of the busiest day at the 3rd biggest convention in the hemisphere! The convention center was close to capacity, and all those people had to be moved outside (20 feet from the building, minimum) without anybody getting trampled.

A photo of the fire-alarm hysteria-ish-ness, via Lora's camera.
Here's a little video we found of the whole mess, with a bit of us trying to get out right at the beginning. You can see just how huge the crowd is, but trust us – it was even bigger than it looks here:

We spent over an hour and a half outside and then slowly being allowed back in (dealers first, then artists, then assistants, then eventually attendees). It could have been a major cluster-foo, but they managed to make it nearly painless. Well… as painless as herding that many frustrated people outside can be.
The rest of the day was pretty uneventful, but after that how could anything be considered an "event?" We were still selling hand-over-fist and drawing said hands and fists right off our wrists. The people coming by were uniformly awesome. One of our favorite parts of this show is all the people who come to the show; they're excited, they're optimistic, they're so happy to be there – it's a very different experience from a lot of the more jaded attendees at comic shows. There's just this energy that pervaded the whole convention center. We felt about ten years younger just being around all that enthusiasm.
And can we just say – fangirls are the best ever. They're so adorable! When she was working on a Nightcrawler commission for a girl and the girl asked her "What's your favorite Kurt pairing?" Comfort was like, wha? "You know – who's the best girl for Kurt!" Comf nearly died from adorable overload. And that was just the tip of the cute-berg.


Nightcrawler by Comfort


Sokka by Adam


Katara by Comfort


A fan as Guy Gardner by Adam
Sunday was a much, much shorter day, only running until 2 pm. We were still working hard the whole time, and even had to stay after close to finish a commission (for the Nightcrawler girl). When we took a final tally, we'd nearly sold out of Uniques Season 1 omnibi, had moved more than 75% of our Rainbow in the Dark #1 stock, and had sold more prints than we ever had at any show ever. We had made more money than at any show we'd ever done by a big margin. After actually losing money in San Diego, Otakon was everything we had hoped for and then some.
There were just so many great people to talk to – so many people who wanted to talk to us about Uniques and Rainbow. There were people who'd been waiting to see us again to talk our ears off about the comic. There were people who bought the Omnibus, read it the same night, and came back first thing in the morning to tell us how much they loved it. It was just… amazing. There has been nothing like it for us, so far.
Having had such a successful show, we turned to our neighbors and asked if they had done as well. Even more satisfying than our own success was finding out that they had also done better than they imagined. In particular Lora, who we had talked into coming, was important to us. We had been scared that we'd convinced her to come and it might not be as big a show this year. But hearing that she had such an outpouring of support from fans at the show was incredibly gratifying for us. The Dreamer is one of our favorite comics, and we're so happy to see her do well.

Lora Innes: Successful in Comics, successful in busines,
successful in… Cosplay Bingo. She's a winner, ladies and gentlemen.
When we were all done, we went with Lora, her sister and her brother-in-law to this awesome restaurant that we had never heard of – The Paper Moon Diner. Apparently it's a Baltimore tradition for her, started by our mutual friend Steve Sunu. It was our first time, and MAN!!! The food was delicious! We all had a pretty nice time unwinding and debriefing. The sun hung low, we were all tired, and we all had drives ahead of us, so we parted ways and hit the road for home.

Hanging with Lora at the Paper Moon Diner.
Otakon was amazing. Nothing has compared to it. The sheer amount of things to do, places to go, and stuff to discover meant that everybody was having a blast. Plus, having done so well financially made it easier to look back on San Diego and focus on the good times we had rather than the monetary debacle it had been. It was two weeks of exhaustion and elation in equal measure, each show making us appreciate the other more deeply, and depositing us back home with such relief and happiness to be back again at last.
And now we're back to work, harder than ever. We have to get Rainbow in the Dark #2 finished for the New York Comic Con in October, and we've got 3 more cons before that! We've got a few weeks to get at least 3/4 of the book finished if we hope to have the thing off to the printer in time. So it's gonna be busy at the old Withers/Love abode, but it's still good to be home.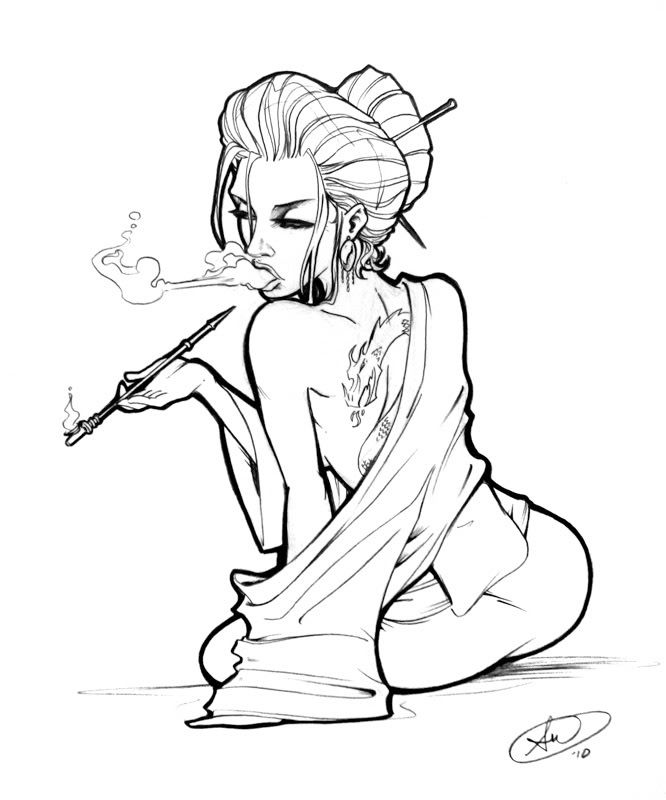 Dragon Lady by Adam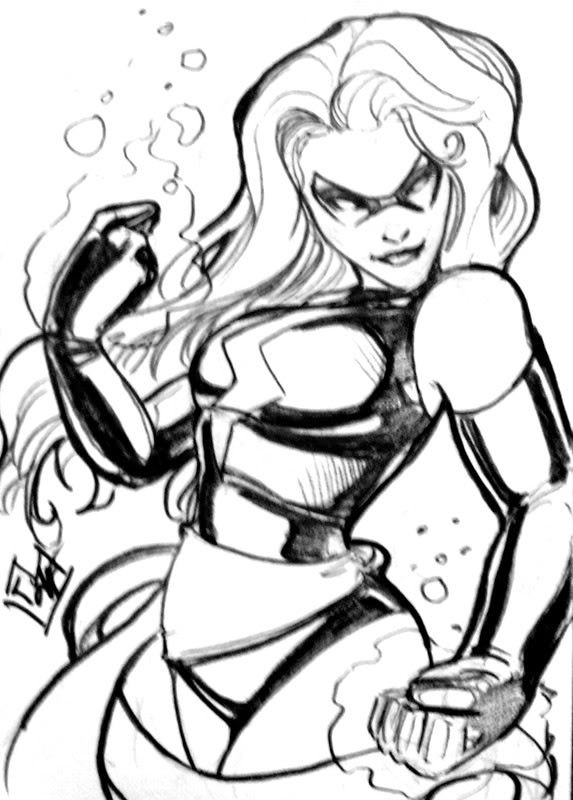 Ms. Marvel Sketch Card by Comfort

Batman vs. Tentacle Monsters by Adam – special revenge-request by a girl whose sister bailed on her at the last minute.
Special last-minute shout-out to our friend Marvin who made Otakon so good for us, to Lora, Franchise and Peng-Peng for being such great neighbors and great people, and to Del for being awesome and teeny, and to Ian and Kris for being great hotel roomies and for being so generous with their space and their time. Now we leave you with costumes and farewells until we're back blogging again later this week.
See you then!
-Adam & Comfort